Bahamas, the perfect wedding destination or just a brand?
The Bahamas, Source:Travel Peach
In the Caribbean, we pride ourselves for our beautiful beaches and breathtaking attractions. Tourism is one industry where we have a competitive advantage and, one of the primary sources of income for our developing nations. As such we develop brands, such as "reggae capital", "Dream Destination", among others to distinguish one destination from another.
In an effort to reinforce the image of The Bahamas as the most desirable location for dream weddings (an initiative which I think should be congratulated), a competition which serves to raise awareness about the islands of the Bahamas, and to engage the interest of a primary marketplace was launched in 2011. This competition was open to couples throughout the United Kingdom, a huge source of foreign tourists for the island. B
rides-and-grooms-to-be uploaded their snapshots and videos to tell why they wished to win a free island wedding in The Bahamas. The Winners were recently announced.
Source:Air Capital Travel
Each couple has won their own special wedding ceremony on one of 16 different Islands of The Bahamas and all will marry simultaneously on 16th May 2012, at 16:00 hrs.
Couples chose amongst 16 different islands and wedding styles, from barefoot-on-the-beach ceremonies to marrying on the ocean floor with dolphins in attendance. A backdrop of an iconic candy-striped lighthouse or the regal elegance of 14th century cloisters. Whether opting for the accompaniment of boisterous music and colourful Junkanoo costumes or the soft tinkling of seashell wind-chimes, every island offers a special opportunity for their truly unforgettable big-day.
(Source: Bahamas Weekly)
Peter John & Joanna Barbara - Cat Island
Source: Bahamas16weddings.co.uk
Cat Island, Source: NASA
Quick Fact - Cat Island
Mount Alvernia—the highest point in the Bahamas, with an elevation of approximately 63 meters (206 feet) above sea level—is located on the southeastern part of the island.
Jill and Phillip - Eleuthera
Source: Bahamas16weddings.co.uk
Eleuthera, Source: IHA
Quick Fact - Eleuthera
The name "Eleuthera" is derived from the feminine form of the Greek word eleutheros, "free" (Wikipedia)

Islands in the Bahamas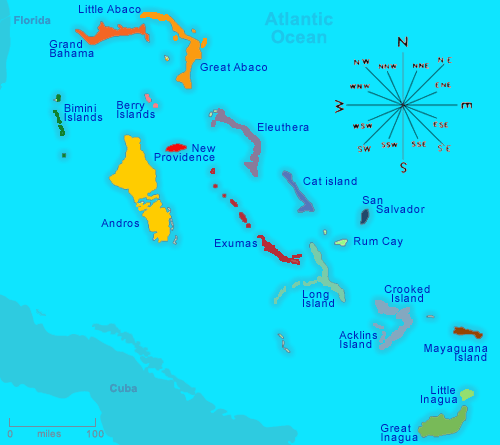 Islands in the Bahamas, Source: Bahamas4kids.com
THE ABACOS: Carla Nevill and Daniel Coote from Baldock, Hertfordshire
ACKLINS: Louise Murfin and Steven Bennett from Ferndale, Huddersfield
ANDROS: Helen Hewett and Jonathan Briley from Tuffnell Park, London
THE BERRY ISLANDS: Jade Chin and Mikhail Tokarczyk from Kentish Town, London
BIMINI: Lindsay McAloon and Charles Price from Bath
CAT ISLAND: Joanna Wicenciak and Peter Dennis from Scunthorpe
CROOKED ISLAND: Felicity Carpenter and Andrew Webb from Amesbury, Wiltshire
ELEUTHERA: Jill Barthram and Phillip Jones from London
THE EXUMAS: Grazina Zaveckaite and Ruslanas Nekipelovas from Edinburgh
GRAND BAHAMA ISLAND: Mary Gleeson and James Potter from Dover
HARBOUR ISLAND: Laura James and Richard Baker from Whiteley, Fareham
LONG ISLAND: Sarah Wassall and Colin Beechey from Blackpool
NASSAU: Claire Gordon and Jason Harris from Rhyl, North Wales
MAYAGUANA: Claire Wilcox and James Williams from York
PARADISE ISLAND: Adele Freeman and John Applin from Balby, Doncaster
SAN SALVADOR: Teresa Maria Gilarranz Pena and Tarik Demnati from London